K-NET Co., Ltd. has been in the business of sour tamarind production since 1994. Our products range from tamarind powder, purée (paste), to tea. Quality has always been the first priority of our company to make sure that our products satisfy consumers' preference.

Since 2004, K-NET farm has received the TAS (Thailand Agricultural Standard) Organic Certification (TAS: 049) from the Organic Crop Institute, Department of Agriculture, Ministry of Agriculture and Cooperatives, Thailand. In addition, we have been included in Thailand's Exporters Directory, Department of Export Promotion, the Ministry of Commerce (THAITRADE).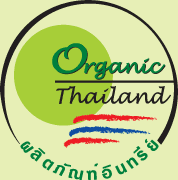 Organic Crop Production in Thailand
Standards for Organic Crop Production in Thailand were established in 2000, as guidelines for organic crop production in compliance with international standards.
Standards for Organic Crop Production in Thailand by the Organic Crop Institute, Department of Agriculture, Ministry of Agriculture and Cooperatives, Thailand